Harps Foods
Recipes
https://www.harpsfood.com/Recipes/Detail/7904/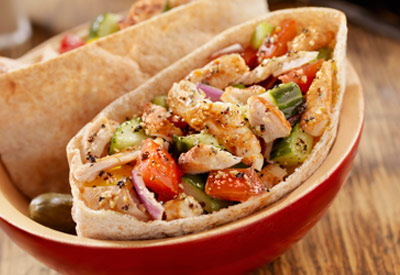 Barbecued Rotisserie Pita Pockets
A quick lunch recipe featuring a tasty barbecue rotisserie chicken salad in a pita pocket for a delicious meal on the go.
Yield: 6 servings
Directions:
In a large bowl combine the chicken, tomato, celery, corn with peppers, cheese, avocado and green onion.

In a small bowl mix together the mayonnaise, barbecue sauce and lime juice until well blended; toss with the salad to evenly coat.

Divide mixture equally among the pita halves.

Garnish each pocket with shredded lettuce.
Please note that some ingredients and brands may not be available in every store.
Harps Foods
Recipes
https://www.harpsfood.com/Recipes/Detail/7904/