Harps Foods
Recipes
https://www.harpsfood.com/Recipes/Detail/7907/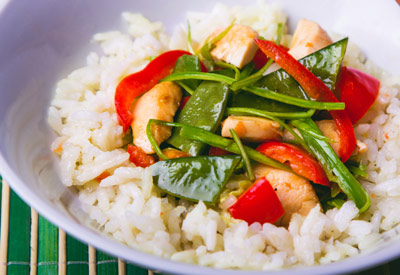 Rosemary Rotisserie and Tomato Rice Casserole
A hearty casserole recipe with big, gourmet taste that's ready in no time. Combine rotisserie chicken, rosemary, tomato and rice.
Yield: 6 servings
Directions:
Preheat oven to 375 degrees F

Heat olive oil in large skillet on medium-high heat.

Add shallots and mushrooms, cook, stirring occasionally till browned, about 5 minutes.

In an 11 x 13-inch casserole dish, add contents of the Rice Mix package, stock, salt, pepper, and rosemary.

Stir in the mushroom and shallot blend, tomatoes, and chicken. Cover with foil and bake for 45 minutes.

Please note that some ingredients and brands may not be available in every store.
Harps Foods
Recipes
https://www.harpsfood.com/Recipes/Detail/7907/