Harps Foods
Recipes
https://www.harpsfood.com/Recipes/Detail/5681/Potato_Lyonnaise_Pizza_with_Brie_Cheese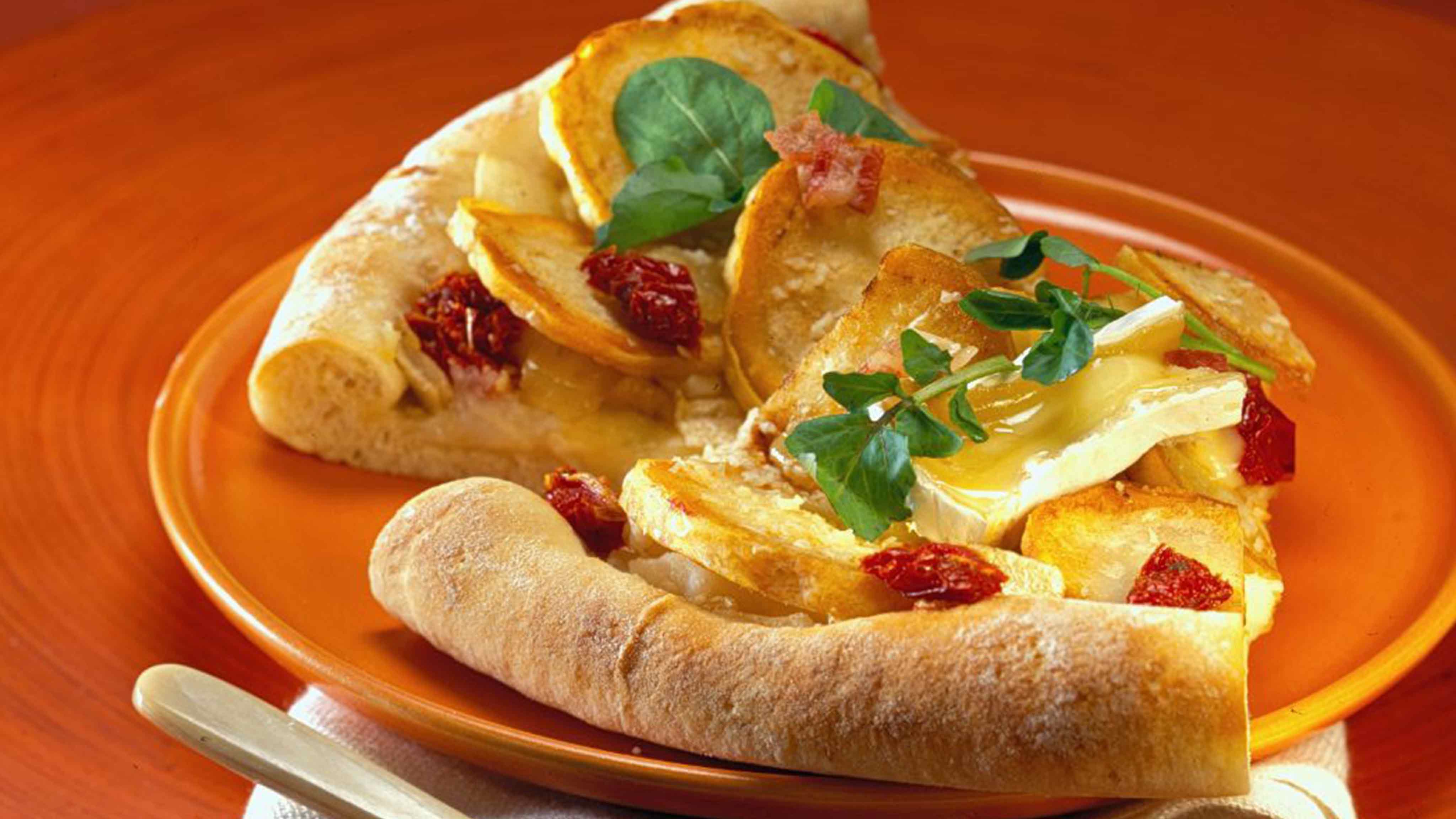 Potato Lyonnaise Pizza with Brie Cheese
This is a delicious pizza that takes full advantage of a classic potato recipe
Customer Rating:
1 Ratings 0 Comments
Yield: 6 servings
Ingredients
2
Tablespoons

clarified butter*

8
ounces

Idaho potatoes, peeled, boiled and cut into 1/8-inch thick slices

2
ounces

prepared caramelized onions, chopped into 1/2-inch pieces

8
ounces

prepared pizza dough

1
teaspoon

garlic-infused olive oil

1/4
cup

bechamel sauce

2
ounces

Mozzarella cheese, grated or shredded

1
ounce

Swedish Fontina cheese, grated

3
halves

oven-roasted Roma tomatoes, cut into 1/2-inch pieces (or use fresh or oil-packed sun-dried tomatoes)

6
slices

Brie cheese, 3 inches long by 1/4-inch thick

1
Tablespoons

Parmigiano-Reggiano cheese, grated

1
Tablespoon

Percorino-Romano cheese, grated

1/2
ounce

fresh watercress

1/2
ounce

baby arugula

1
ounce

pancetta, cut into 1/4-inch pieces and cooked until crispy

2
teaspoons

olive oil

1/4
teaspoons

fresh lemon juice

Pinch sea salt

Pinch freshly ground black pepper

1
Tablespoon

creme fraiche**
Directions:
Preheat oven, preferably wood burning, to 500 degrees F

Melt the butter in a saute pan set over medium-high heat. Add the potato slices to the pan and cook until they have become slightly brown around the edges. Add the caramelized onions and gently toss together. Set the potato mixture aside, allowing it to cool.

Stretch the pizza dough into a round shell, 10 inches in diameter. Place the dough onto a lightly floured work surface and brush with the garlic-flavored olive oil.

Ladle the bechamel sauce onto the dough, spreading it evenly over the entire surface. Sprinkle the mozzarella and fontina cheeses onto the dough. Place the potato and onion mixture onto the pizza dough, evenly distributing them over the entire surface. Sprinkle the oven-roasted tomato pieces over the potatoes.

Layer the slices of Brie cheese onto the pizza in a "star" pattern. Sprinkle the Parmesan and Romano cheeses over the pizza.

Using a pizza paddle or flat-sided sheet tray, transfer the pizza to a preheated pizza stone in a wood-burning oven, and bake for 4 to 5 minutes (5 to 7 minutes for a conventional oven) or until the crust has become crispy and golden brown.

While the pizza is cooking, toss together the watercress, arugula, pancetta, olive oil, lemon juice, salt and pepper. Set aside.

When the pizza is done, remove it from the oven, and cut into 4 or 6 pieces. Transfer to a serving platter, drizzle a little creme fraiche evenly over the top, and garnish the pizza with the watercress and arugula salad. Serve immediately.

*Clarified butter:
is butter that has had the milk solids and water removed. One advantage of clarified butter is that it has a much higher smoke point, so you can cook with it at higher temperatures without it browning and burning. Also, without the milk solids, clarified butter can be kept for much longer without going rancid.

It is very easy to make. Melt the butter slowly. Let it sit for a bit to separate. Skim off the foam that rises to the top, and gently pour the butter off of the milk solids, which have settled to the bottom. A stick (8 tablespoons) of butter will produce about 6 tablespoons of clarified butter.

Another method is to simmer the butter in a saucepan until the mixture separates. After the water has evaporated, the milk solids will begin to fry in the clear butterfat. When they begin to turn golden, remove the pan from the heat and pour the butter through a fine strainer lined with damp cheesecloth into a heatproof container. If the cheesecloth is damp, all the butterfat will pass through, otherwise some will be absorbed by the cloth. This method is a little fussier, but produces a clearer result.

**Creme Fraiche:
You can make a facsimile of creme fraiche by adding a tablespoon of buttermilk or a half cup of sour cream to a cup of whipping cream, heating it gently to 110 F, then putting it in a loosely covered bottle in a warm place and letting it sit for anywhere from 8 hours to a couple of days, until thick. Store it in the refrigerator, where it will thicken further, and keep for about three weeks.

In general, creme fraiche and sour cream can be used interchangeably in most recipes, but creme fraiche has two advantages over sour cream: it can be whipped like whipping cream, and it will not curdle if boiled.


Recipe and Photo Courtesy of the Idaho Potato Commission
Please note that some ingredients and brands may not be available in every store.
Harps Foods
Recipes
https://www.harpsfood.com/Recipes/Detail/5681/